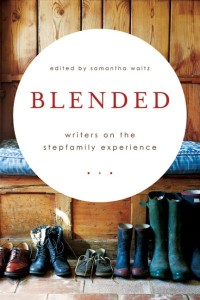 It took until 2011 for Statistics Canada to formally include stepfamilies in the population census. At that time, almost 500,000 Canadian families – over 12 per cent – were step. It's telling that stepfamilies had been left out. We tend to believe they are not so different from others; stories unique to blended families often go unheard.
A new book brings the stepfamily experience to light. Blended will be published by Seal Press this May. Edited by Samantha Waltz, Blended offers thirty personal essays by upcoming and established writers. Tone and circumstance vary across these stories, as we would expect from thirty diverse families, yet all contributors focus on the challenges of re-mixing relationships into something whole and profoundly new.
In "It Takes a Villa," for example, Barbara Lodge describes a long-awaited vacation in Tuscany. She brings her new partner, Louise, as well as her two teenage kids from a previous marriage. She also invites her ex-husband and his new partner, both recovering addicts/alcoholics. Lodge works very hard to be a good mother, a loving spouse, a considerate ex, and a happy-go-lucky vacationer as her ex-husband invites their slightly underage kids to party long into the night.
In "Nightshade Love," Nancy Antonietti writes beautifully of her two childhood homes – with her grandparents' and with her somewhat estranged father. She distills this experience into the push-pull of leaving one home for the other every weekend and the assumptions adults unwittingly pass on to children.
And in "The Angel Steps Down," Elizabeth King Gerlach explores a time of stress and compromise for many blended families: the holidays. Through reluctant shifts in Christmas decorations, Gerlach, her new partner, and their children learn to overcome resistance and nurture new traditions.
There is no firm advice in Blended; no how-to-be-a-better-stepparent. There is simply the wisdom of interlaced experience and the pleasure of fine writing.