UPDATE: AUGUST 2021
Dear contributors, readers, and supporters,
Since 2013, Understorey Magazine has published the life stories of women and non-binary writers and artists. To date, we have produced 20 issues and featured over 400 contributors.
For the past four years, we have been very grateful to receive funding from the Canada Council for the Arts. This funding has allowed us to pay every contributor and editor.
However, competition for funding has increased and, unfortunately, our grant was not renewed in 2021.
Since we do not receive funding from our administrative partner, Mount Saint Vincent University, our provincial arts organization does not have a relevant grant program for Understorey, and we do not charge fees to read or submit to the magazine, we must pause briefly to consider our next steps.
We will continue with our forthcoming issue on Rural and Remote Living (which is shaping up to be a beautiful digital and print issue). We will then take some time to consider the future of the magazine: what is possible, what is needed, what is valued.
We would appreciate your help with this re-visioning process.
Please respond to our brief survey available here.
If you would like to send additional ideas, please contact Katherine Barrett at editor@understoreymagazine.ca.
A few details about Understorey Magazine are listed below.
Donations are gratefully accepted via Mount Saint Vincent University. See instructions here.
Thank you!
About Understorey Magazine
Understorey Magazine has been publishing since 2013. It is one of very few literary magazines published in Atlantic Canada.
We have published 20 issues to date. Issue 21 on Rural/Remote Living will be published in the fall of 2021.
Our focus is unique among literary magazines in Canada: telling stories of our lives through literary writing and visual art. We have covered many themes, including age, justice, dis/ability, motherhood, women in theatre, francophone women in Atlantic Canada, and African Nova Scotian Women.
We have published over 400 writers and artists to date.
All contributors identify as women or non-binary.
All contributors are Canadian citizens, Canadian residents, and/or Indigenous people.
About one third of contributors are from Atlantic Canada, including many Mi'kmaw and African Nova Scotian writers and artists.
All contributors are paid.
All content is open access. We do not charge fees to read or submit to Understorey.
We aim to support and encourage new and emerging writers. For about one third of writers, Understorey Magazine provided a venue for their first publication.
All submissions receive a personal reply. We do not use form letters for acknowledgments, acceptances, or rejections. Almost all rejections include feedback to the writers and a reason for the rejection.
~
FORTHCOMING ISSUE (FALL 2021): Issue 21 on Rural and Remote Living (submissions now closed).
~
Issue 21: Rural and Remote Living
Deadline June 21, 2021
About 18 percent of people in Canada live in rural and remote locations. In Atlantic Canada and the North, and for Indigenous Peoples, the figure is about 50 percent. Rural and remote living provides opportunities and challenges. Many endeavours—from parenting to artistic creativity, from selling products to gaining an education—benefit from connections to organizations, to community, to the internet, and to each other. For Issue 21, we want to hear from women and non-binary writers and artists living in rural and remotes areas:
How to you maintain connection or learn to live without it?
What are the challenges and opportunities for writers and artists who live outside large urban centres?
How has the Covid-19 pandemic affected you and your community?
How are the many themes covered in Understorey Magazine (food, technology, climate change, youth and ageing, justice, disability, motherhood) different for those in rural and remote communities?
Any other aspects of rural and remote living!
Understorey is primarily a digital magazine. However, we recognise that many rural and remote communities do not have reliable access to the internet. For that reason, we will be creating a limited-distribution print edition of Issue 21.
If you do have reliable internet and live in a rural location, please help distribute this call for submissions. Download and print our call for submissions here and post the call in community centres, libraries, women's centres, grocery stores, and other locations. Thank you!
Please read our mandate and general submission guidelines (below) before submitting.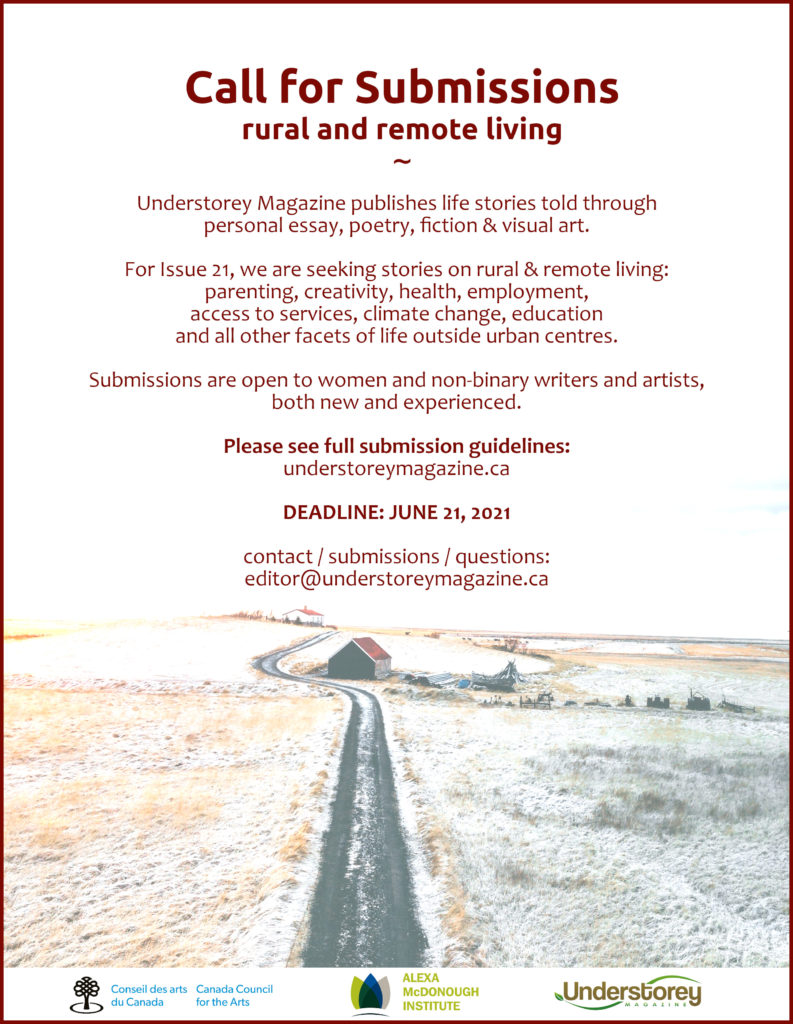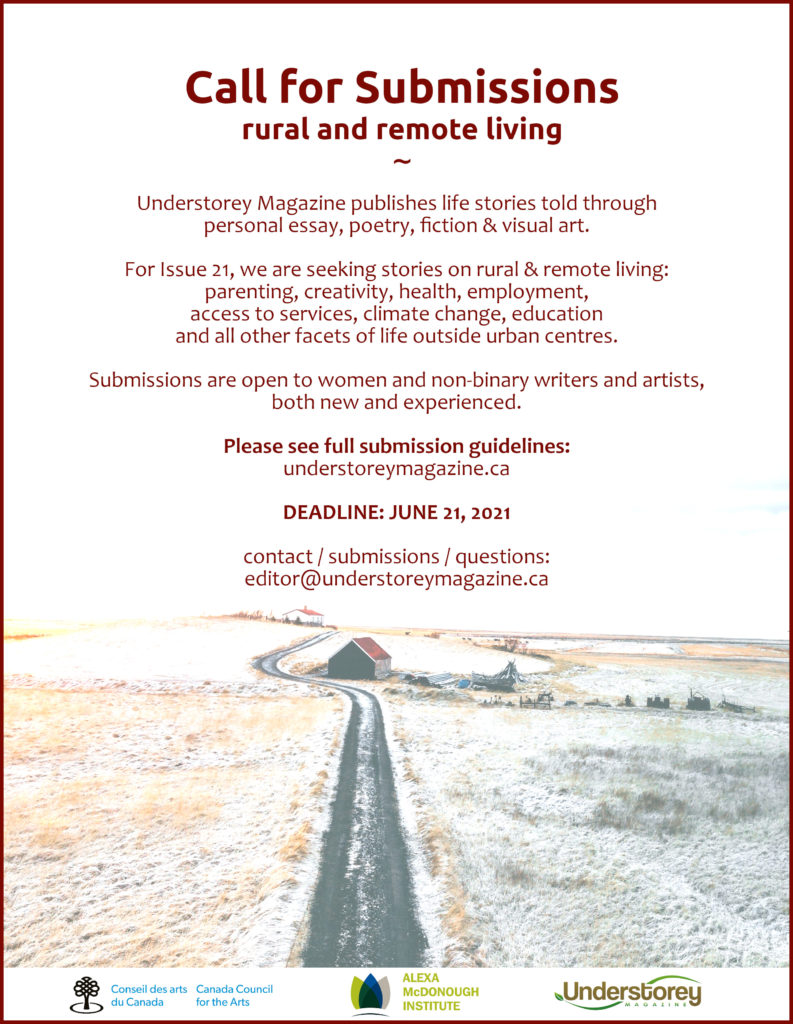 General Guidelines
Understorey Magazine publishes stories based in life experience and told through fiction, creative nonfiction, poetry, and visual art. We feature writers who identify as women or non-binary, and who also have a strong connection to Canada. This includes Canadian citizens, permanent and temporary residents, stateless people in Canada, and Indigenous people living within the political boundaries of what is currently called Canada. Please contact us if you have questions about eligibility.
Before submitting work, please read our mandate and the guidelines below.
Understorey Magazine aims to publish as many different voices, styles, and perspectives as possible. We welcome submissions from writers and artists of various ages, cultures, ethnicities, gender identities, abilities and disabilities, and educational and economic backgrounds.
Writers
Understorey's mandate is to publish the voices of women/non-binary writers, particularly underrepresented stories and experiences. As such, we lean toward personal, life stories, whether told through fiction, creative nonfiction, or poetry. We are open to traditional short story, essay, and poetic forms as well as letters, prose poems, rants, anecdotes, dialogue, or any shape your story wants to take. Surprise us!
Please note we do not publish "how-to" articles, expository essays, or academic work. Nonfiction pieces should be "creative" or literary. See What is Creative Nonfiction? for a detailed description.
Also note: Poetry with complex arrangement (white space) is sometimes difficult to publish online.
Audio / Video
We welcome audio and video recordings of written submissions. Please see Granny and Walls for examples.
Visual Artists
Understorey Magazine illustrates most published stories with visual art by artists in Canada who identify as women or non-binary. We welcome photos of both art and craft. Please see our current and past issues for examples.
The Details
Please include a cover letter that demonstrates you are familiar with at least one issue of Understorey Magazine (all issues are

here

). Also include a short biographical statement.
Creative writing submissions must be original, unpublished work.
Keep all submissions under 1,500 words. Poets, submit no more than five poems at one time. Prose writers, please submit only one piece per issue.
Visual art may be published elsewhere online. Please send a jpg file of approximately 800 x 600 pixels.
We encourage simultaneous submissions but let us know if your work is accepted elsewhere.
Writers and artists retain copyright of their work. Writers grant Understorey Magazine nonexclusive Internet rights to publish their work.
We offer an honorarium to writers and artists whose work is accepted for publication. Current rates (as of Issue 20) are $150 for writers and $75 for artists (i.e. to re-post artists' work already available online). Please note: Due to our administrative partnership with Mount Saint Vincent University, to receive an honorarium, contributors to Understorey (with some exceptions) are required to provide their Social Insurance Number. This is only required when and if your piece is accepted for publication. (Contact us with any questions: editor@understoreymagazine.ca)
Email your submissions to editor@understoreymagazine.ca. If possible, include your submission AND cover letter/bio in the body of the email (so we don't have to open attachments to read your submission).