Issue 20: Laughter
Deadline February 26, 2021
Understorey Magazine invites your stories of laughter, humour, and comedy.
Through poetry, personal essay, fiction, or visual art tell us your experiences of:
Using humour to build resiliency through times of uncertainty, fear, anxiety, and anger.
Negotiating gender and cultural expectations of what is "acceptable" laughter and humour.
Being the subject of unwanted laughter.
Working in professional and amateur comedy (& confronting the gender gap in pay, stage time, and bookings).
Celebrating laughter, humour, and comedy as sites of resistance, power, and hope.
Other ways we use humour and need laughter in our lives.
Co-edited by Natalie Meisner and Katherine Barrett.
Open to writers & artists, new & experienced, who identify as women or non-binary and maintain a close connection to Canada.
Please read our mandate and general submission guidelines (below) before submitting.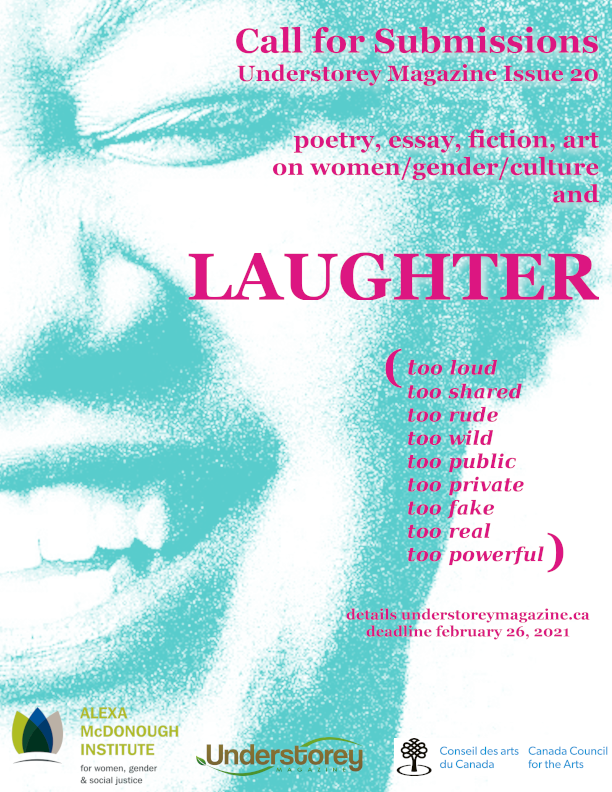 ~
Issue 19: Food Work
Submissions now closed. Issue coming soon.
Understorey Magazine seeks submissions of poetry, fiction, creative nonfiction, spoken word, and visual art about women/gender and all aspects of food work.
We are interested in submissions by women and non-binary writers and artists on their experiences of creating, gathering, processing, transporting, cooking & serving food, as well as the work of disposing of or redistributing food waste, food policy, and food aid.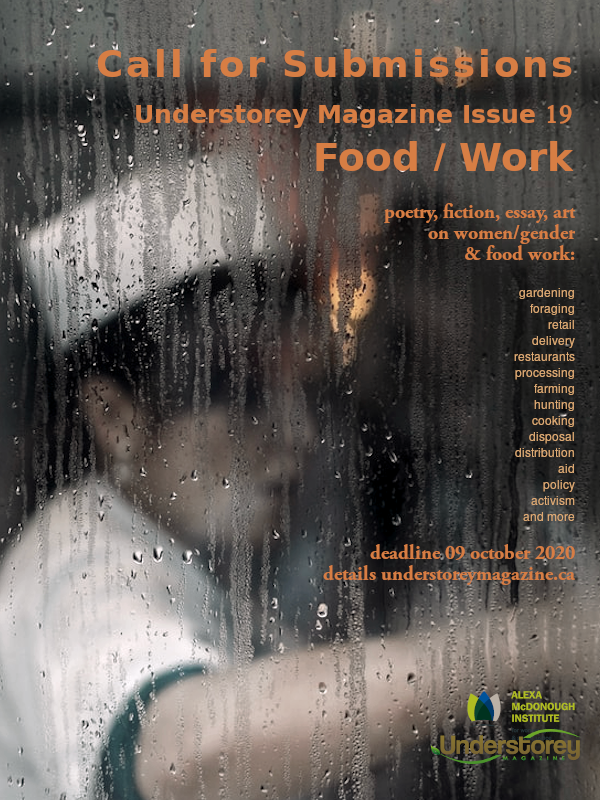 ~
General Guidelines
Understorey Magazine publishes stories based in life experience and told through fiction, creative nonfiction, poetry, and visual art. We feature writers who identify as women or non-binary, and who also have a strong connection to Canada. This includes Canadian citizens, permanent and temporary residents, stateless people in Canada, and Indigenous people living within the political boundaries of what is currently called Canada. Please contact us if you have questions about eligibility.
Before submitting work, please read our mandate and the guidelines below.
Understorey Magazine aims to publish as many different voices, styles, and perspectives as possible. We welcome submissions from writers and artists of various ages, cultures, ethnicities, gender identities, abilities and disabilities, and educational and economic backgrounds.
Writers
Understorey's mandate is to publish the voices of women/non-binary writers, particularly underrepresented stories and experiences. As such, we lean toward personal, life stories, whether told through fiction, creative nonfiction, or poetry. We are open to traditional short story, essay, and poetic forms as well as letters, prose poems, rants, anecdotes, dialogue, or any shape your story wants to take. Surprise us!
Please note we do not publish "how-to" articles, expository essays, or academic work. Nonfiction pieces should be "creative" or literary. See What is Creative Nonfiction? for a detailed description.
Audio / Video
We welcome audio and video recordings of written submissions. Please see Granny and Walls for examples.
Visual Artists
Understorey Magazine illustrates most published stories with visual art by artists in Canada who identify as women or non-binary. We welcome photos of both art and craft. Please see our current and past issues for examples.
The Details
Please include a cover letter that demonstrates you are familiar with at least one issue of Understorey Magazine (all issues are

here

). Also include a short biographical statement.
Creative writing submissions must be original, unpublished work.
Keep all submissions under 1,500 words. Poets, submit no more than five poems at one time. Prose writers, please submit only one piece per issue.
Visual art may be published elsewhere online. Please send a jpg file of approximately 800 x 600 pixels.
We encourage simultaneous submissions but let us know if your work is accepted elsewhere.
Writers and artists retain copyright of their work. Writers grant Understorey Magazine nonexclusive Internet rights to publish their work.
We offer a small honorarium to writers and artists whose work is accepted for publication. Current rates (as of Issue 20) are $150 for writers and $75 for artists (i.e. to re-post artists' work already available online). Please note: Due to our administrative partnership with Mount Saint Vincent University, to receive an honorarium, contributors to Understorey (with some exceptions) are required to provide their Social Insurance Number. This is only required when and if your piece is accepted for publication. (Contact us with any questions: editor@understoreymagazine.ca)
Email your submissions to editor@understoreymagazine.ca. Writers, include your work in the body of the email.