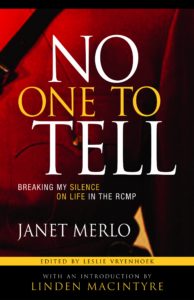 Today, the RCMP announced that it will offer up to $100 million in compensation to RCMP officers who have experienced sexual harassment and abuse on the job. The RCMP Commissioner also offered an apology: "We failed you. We hurt you. For that, I am truly sorry."
Acknowledgement, compensation and public apology have been a long time coming.
Janet Merlo documented her twenty-year career with the RCMP in her book No One to Tell in 2013. The title is apt. In her detachment, Merlo was known as "a fucking woman with a big mouth." Yet ironically, she had no one to tell about the constant discrimination and overt sexual harassment she endured. No one who was willing to listen and make changes.
Merlo, originally from Newfoundland, received her first RCMP posting in 1991, on the opposite side of the country in Nanaimo, BC. She knew that women before her in the detachment had complained of harassment and they had been shut down. Soon Merlo experienced it herself: a supervisor offering to retrieve change from her uniform pockets; a supervisor with a blow-up doll in his office; a list of "Training Courses Now Available for Women" left in her mail slot, courses which included "PMS—Your Problem Not His." Merlo describes these and many other instances of bullying and abuse throughout her career.
At first she said nothing: "In a paramilitary organization, order is maintained by mute force—you just don't speak out against those who outrank you." When she did speak out the bullying worsened. She feared for her career and her health but she continued. She told coworkers and supervisors, sent letters to the RCMP Commissioner and to the BC Minister of Public Safety. She lodged a formal complaint that resulted in an investigation. Nothing was admitted or acknowledged. She was told to put it all behind her; that her issues were simply personality conflicts. Merlo was diagnosed with PTSD and that, too, was challenged by the RCMP's Health Service.
Merlo says she has never thought of herself as a feminist yet her book empowers women in many ways. Through numerous anecdotes, No One to Tell provides a vivid look at the daily life of an RCMP constable and portrays the draining, often hidden, challenge of balancing several roles—in Merlo's case officer, mother, wife and caregiver. Despite these many roles and her dedication to the job, she was often told she just wasn't ambitious enough. Most importantly, the book also helps to explain why so many women are reluctant to come forward and report abuse.
Catherine Galliford, who trained with Merlo, first broke the silence about abuse in the RCMP during a CBC interview in 2011. That interview brought many women forward, including Merlo. They formed a Facebook group and, in 2012, Merlo filed a class-action lawsuit.
Today's announcement and apology is partial settlement and a first step toward healing.
Read more stories about Women and Justice.