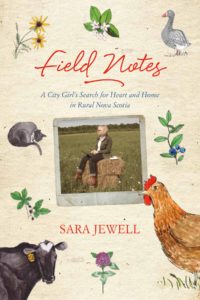 Ever since I met my "Upper Canadian" husband in my hometown of Fredericton at age twenty and moved to southern Ontario at twenty-one, I've had a love-hate relationship with the Maritimes, as well as with rural and small-town life in general. At times, I have resented what I saw as its narrowness and stubborn attachment to the past. I can credit Sara Jewell and her Field Notes: A City Girl's Search for Heart and Home in Rural Nova Scotia (Nimbus, 2016) with adding more weight to the "love" side of the equation. Now back east, living in Halifax after seven years abroad, I've come to appreciate anew the warmth and hardiness of my birthplace. Field Notes reminds me of what I had lost and now regained.In a series of essays covering everything from checking for ticks to dealing with roadkill, from the wonder of sighting deer on morning walks to how to hold a Maritime dinner party, Jewell traces her relationship to Maritime country life with insight and humour. We learn of her first summers spent in a cottage near Pugwash with her family, her return to Nova Scotia after the breakup of her first marriage, and her later marriage to a man whose family has deep roots in the Cumberland County soil.
Jewell's essays are peopled with memorable characters: the in-laws whose willingness to adapt to new technology surprises her in "Nanny and Grampie Get an iPad"; the artists and musicians who are thriving in her adopted region; and the friends gained and lost. Some essays evoke smiles, other sadness—yet always with thankfulness that what has been lost will live in happy memory and that the surroundings of Cumberland will act as their monuments.
The more than forty essays in Field Notes are to be savoured slowly, each one taken out and considered as one would consider a leaf or a stone or a deer track—much like the very artifacts of the Maritime fields and woods Sara Jewell brings to life in her words. At the end of my reading, I found myself hoping that a second volume is in the works, so that I can become even further reacquainted with my Maritime roots.