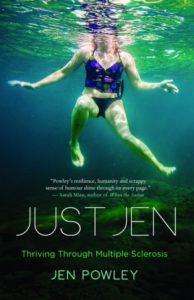 In Just Jen: Thriving through Multiple Sclerosis (Roseway, 2017), a book less than two hundred pages long, Jen Powley takes us on a trip that we wouldn't otherwise experience. This is exactly what I want from a book: the opportunity to go on an unfamiliar journey.
I say this even though I was diagnosed with multiple sclerosis sixteen years ago. But everyone's journey with MS is different. Jen shows us the hard realities of MS with an easy, straightforward honesty and a great sense of humour. Along the way, we get to know this extraordinary woman as she wakes readers to the depth of relationships bound by this disease.
In concise chapters, Jen takes us through facets of life most of us will recognize. We go to university with her and, like most students, she changes university majors. Unlike most students, she navigates the cafeteria and dining halls while precariously balancing food trays, unsure if she can trust her own legs to keep her steady. She also takes us through her romantic relationships, negotiating sex and her own self image. The book moves at a steady pace. As in life, she deals with one difficulty and then another.
I admire her tenacity. I recognize the way in which she copes with the grief of losing physical abilities, but I also recognize the challenge and triumph of figuring out how to do things a different way. In fact, I kept mental notes of the ways in which Jen copes with practical difficulties and might make some of the same adaptations myself. Though it may sound strange, there is great satisfaction in learning to cope with the slow demise of a disease like multiple sclerosis, to face challenges and not let them stop you or get you down. Jen never loses her drive to do what's important to her.
There are times when I don't want to read about MS, because I have to live it. I don't want to be reminded of how sad and hard it can be. However, Jen's book is delightful. I applaud her ability to describe the awkward and ridiculous situations in which she finds herself. We are with her both in difficult moments and when the pressure is released. We are with her in fun, flirtatious moments and quiet, tender moments too.
Just Jen is a reminder of how, in spite of physical limitations, we all have the same human needs. We all need to pursue a sense of purpose; we all need to feel the closeness of human contact; we all want to be heard.
Read Rita Kindl Myers' "Supper Helper" in Understorey Magazine Issue Six.