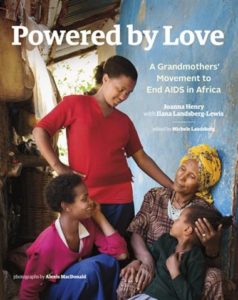 At the turn of the twenty-first century, when AIDS-related deaths in developed countries were finally on the decline, infection and death rates in sub-Saharan Africa continued to soar. Stigma, discrimination and misinformation meant that testing and treatment remained unavailable for the millions of people—in some countries up to thirty percent of the population—with HIV/AIDS. The majority of those killed by the pandemic were young adults and parents. Over twelve million children in sub-Saharan Africa were orphaned. The burden, not to mention the grief, fell to the older generation, grandmothers who had lost their children and took in their grandchildren—and then fought back.
Powered by Love: A Grandmothers' Movement to End AIDS in Africa (Gooselane, 2017) describes how African grandmothers, or gogos, helped to turn the tide of AIDS in Africa. Co-author Joanna Henry travelled throughout sub-Saharan African and interviewed hundreds of grandmothers. Much of the book is in their words, direct quotations from grandmothers involved in the movement. Henry was accompanied by photographer Alexis MacDonald; her beautiful photos tell a story of their own. Co-author Ilana Landsberg-Lewis is co-founder and executive director of the Stephen Lewis Foundation, a Canadian nonprofit that works with community organizations throughout Africa.
Many Canadians have likely heard of the Stephen Lewis Foundation and "Grandmothers to Grandmothers," a campaign that links Canadian grandmothers with grandmothers in African countries. Powered by Love explains how Canadian grandmothers became involved, specifically through the 2006 Toronto International Grandmothers' Gathering and the numerous Canadian grandmothers groups that arose in its wake. Appropriately, however, the book does not focus on the work of Canadians. It acknowledges that Canadian grandmothers continue to bear witness, raise awareness in Canada and raise crucial funding. But the relationship between Canadian and African grandmothers "dismantled the power imbalance inherent in donor-beneficiary interactions" and instead built one founded on trust, respect and listening.
Powered by Love therefore centres on the phenomenal strength and sustained influence of African grandmothers. Through the grandmothers' words, readers learn of unimaginable loss:
"I lost my three sons, who were the breadwinners. I lost two daughters and my husband."
"Four of my sons died in one year, with just a few months in between."
"We had no furniture in this house full of people, but we had funeral supplies because they were becoming so routine."
As grandmothers took in their orphaned grandchildren, the elder women faced isolation, silence, stigma, financial strain, a tremendous workload—and also, they admit, an element of resentment. But in the early 2000s, grassroots organizations began to sprout, often in rural areas. The groups brought grandmothers together, at first to share challenges and then to mobilize.
The accomplishments of these organizations and individuals are truly awe-inspiring. Many of the gogos "had been denied an education their entire lives and treated as both invisible and powerless." Working together, however, they gained the education needed to sustain jobs and livelihoods, they created revolving loan programs to start businesses, they even played competitive sport in the Gogolympics. Most of all, they educated others about HIV/AIDS, provided home-based care, ensured people got tested and took their medication. All of this late in life and while shouldering grief, stress and new responsibilities.
The women described in this book have indeed been powered by love: love for their families and communities, love received by their Canadian allies and, ultimately, love for themselves. At the African Grandmothers' Tribunal in 2013, at the Ugandan Grandmothers' Gathering in 2015, at the International AIDS Conference in 2016, gogos asked for more than help. They demanded something they'd never asked for before: human rights.
Powered by Love is humbling and devastating and galvanising. It is testament not only to the power of love but to the power of older women to change the world.
All royalties from the sale of Powered by Love will be donated to the Stephen Lewis Foundation.
Part of a series of reviews to accompany Understorey Magazine's Service Issue. See also:
Refuge in the Black Deck: The Story of Ordinary Seaman Nicola Peffers
F-Bomb: Dispatches from the War on Feminism