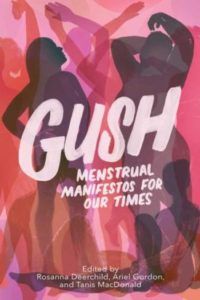 I'd forgotten Judy Blume's Are You There God? It's Me, Margaret is about religion. What I remember from the book, what most readers likely remember, is that eleven-year-old Margaret desperately wanted her period. For anyone who has had a period—for one year, ten years, forty years—that plot line is so off-the-charts bizarre it's unforgettable. But the reason Blume's book was passed around the school yard in the 1970s was not so much that Margaret wanted her period but that she and her friends actually talked about periods, as well as boys, bras, puberty and sex. Few people, youth or adults, spoke openly about such topics, very few about menstruation.
Almost fifty years later, Margaret is still in print and still touted by some as the guide to puberty. So how far have we progressed in terms of open discussion of periods? How much has changed in terms of books we can share, books that start conversations, answer questions, portray common experiences? Not far and not much, I say. Or I did say—until Gush.
With Gush: Menstrual Manifestos For Our Times (Frontenac House, 2018), the literary flood gates are open. In almost four hundred pages, over one hundred writers in Canada share their experience of menstruation: the beginning, the end, the pain, the shame, the power, the affliction and many, many more aspects of this essential yet covert bodily function.
Why would you want to read such intensely personal stories? Because among these pages, you will find an experience like your own, the experience you've never talked about, the one you thought was solely yours. Also among these pages, you'll find an experience utterly different from your own, the one your friend or colleague or mother never talked about, the one she thought was solely hers.
Gush offers both camaraderie and enlightening diversity. Contributors are of various ages, ethnicities, genders and geographic locations and they present a panoply of writing styles, from lyrical poetry to graphic art, humourous essay to searing memoir. The book is divided into ten sections, called "Cycles," each with a provocative name: Cycle 1: Pronounced Like Anarchy; Cycle 4: Party at My Pad. There is no conspicuous link among the selections in each Cycle but themes do run throughout the book. As you might expect, many contributors focus on silencing and shame, yet even within this subject, the spectrum of experience is surprising.
In consecutive but very different pieces, Sylvia D. Hamilton and Carin Makuz write about the eyes of young and not always friendly peers. Smack that boy who points & pokes & laughs, Hamilton says in her poem "The Spot." In contrast, Makuz's "How to Attend a Pool Party in the 1970s" advises, Be good natured when you sit by the side of the pool as others swim. Be good natured as you furtively and inexpertly learn to use a tampon and are then pushed into the pool. Smile…. Have fun.
In her poem "Moontime," Rosanna Deerchild tells of a time when the women came to rest / sit cross legged / among moss beds / drink berry tea / weave stories. Until the Hudson Bay came: They sold us / the long strips / of bulky cotton and cloth / safety pins and shame.
Dawn Karima writes of similar if contemporary violence in "Moon Turning to Blood": 'You're hard to catch,' the white man in a denim jacket sneers. He smells of Juicy Fruit and Marlboros. As he leans in to touch me. But she is saved from the men by the moon—Slim ribbons of blood stream down my leg—and they retreat, disgusted, to their truck. You get in trouble, call on your Blood, her Grandmama teaches.
Cathy Elliott and Chandra Mayor expand notions of women's "monthlies" by reminding us that not all women menstruate and not all who menstruate are women. In writing of her hysterectomy in "Filling Holes," Elliott decides, I can't be a portal anymore. No spirits will pass from the other place to this world through me. But maybe, through knowledge, I can transfer something else. In "When My Boyfriend Gets His Period," Mayor says, He cries, just / a little, about the things / he had to barter away / to reclaim his blood.
Of course, Judy Blume and Margaret get several mentions in Gush, albeit not with great fondness. Jen Zoratti writes of her eleven-year-old self in "Say Anything": I went to bed that night feeling both defeat and the dull throb of menstrual cramps. Are you there, God? Fuck you.
Kerry Clare, on the other hand, seems to channel a Margaret-with-attitude as she fakes her period in grade five: I'd get to go to the nurse's room to lie down, and sometimes my mom would come and pick me up, take me home. Cramps, I'd shrug. Can't be helped.
Unlike Blume's book, Gush is not aimed a preteens; perhaps the only voices missing from the book are those of youth. But I expect Gush will be nonetheless passed around classrooms, as well as book clubs, women's centres, office towers and break rooms. And I hope this sharing and the conversations that no doubt ensue are not hushed and tittering. I hope teachers, counsellors, parents and partners bookmark pages, highlight passages and display the book on prominent shelves.
As Katie McGarry implores in the opening poem, let us Rise up … and be lunar lobbyists / for the crimson caucus.
Related reading: Understorey Magazine Issue 13: Blood