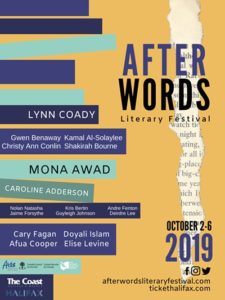 Understorey Magazine: AfterWords is a brand new literary festival for the Halifax area. What inspired you take on this project?
Stephanie Domet: My co-organiser, Ryan Turner, and I have had the idea for AfterWords since the final Halifax International Writers Festival back in 2008. Halifax hasn't had a multi-day literary festival for the past ten years. We aimed to create the kind of event we would like to go to. There's so much happening in Nova Scotia. We wanted to show writers who travel here for the festival—as well as local readers and writers—the very best that Halifax has to offer.
UM: Tell us about the AfterWords slogan: "Where writers and readers meet."
SD: The focus of the festival is on conversation and hospitality, not just readings to an audience. So we have a lot of different venues, including Cafe Lara and the Agricola Street Brasserie. Some events free. Some have food and drink. We hope to widen the appeal of a literary festival, especially to people who might not think "literary" is their thing. This is not an elite event. It's for everyone.
UM: AfterWords also includes several writing workshops. Is this meant to attract emerging writers?
SD: We have three workshops aimed at emerging writers: poetry, fiction, and screenwriting. We're also offering a workshop on grant-writing in collaboration with the Writers' Union of Canada.
But we really wanted to include a workshop for more advanced and professional writers. There aren't many courses available to writers who might already have published one or two books but might be stuck or want fresh inspiration. So we set up the Advanced Fiction workshop with Caroline Adderson. That one sold out fast. In fact, ticket sales for all of the workshops have been great. Clearly, there is an appetite for these kinds of events.
UM: The line-up for AfterWords showcases the diversity of writing and writers in Canada and beyond. I assume this was intentional?
Having a diverse line-up was a priority for us and it was definitely intentional—but it wasn't a big challenge. The line-up at AfterWords really reflects what's happening in Canadian literature. There's no need to search for diversity. It's there.
UM: What was the biggest challenge in organising this festival? What was most fun?
The biggest challenge was that, well into our organising, Margaret Atwood announced a reading at the Halifax Central Library—on October 3, right in the middle of AfterWords. At first we thought: "Well, no one will come to AfterWords!" But then we started looking at this as an opportunity. We tinkered with the schedule and venues, and moved our Thursday event, conversations with local authors, to later in the evening and to Cafe Lara. Now we're inviting people who are going to Margaret Atwood's reading to extend their evening and come to ours too. So it all worked out. We're learning as we go. And that, so far, has been the most fun.
Afterwords Literary Festival runs October 2-6, 2019 at venues throughout Halifax.