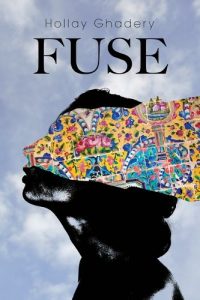 Who am I is a question many biracial and bicultural people ask themselves. Society and family often demand they choose a side. Hollay Ghadery was born in Ontario to a white Canadian mother and an Iranian, Muslim father. Her memoir Fuse (Guernica Editions; MiroLand, 2021) is a revealing and thoughtful book about her hybrid, perhaps multiple, identities.
Written as series of short essays, Fuse explores identity and health from childhood through adulthood and motherhood in poignant anecdotes. Ghadery sets out to write about the "prevalence of eating disorders and body image issues in biracial women." The project quickly broadens as she considers the intersections of these issues with culture, religion, family, and language. Intense anxiety begins at a young age for Ghadery and fuels obsessive compulsive disorder, eating disorders, and depression. Is her mixed background the cause? There is also a family history of mental illness. A therapist informs Ghadery that when racial and cultural origins are very different within an individual, anxieties are more likely.

Ghadery recounts in detail the tensions within her family and from the outside world that contribute to her anxiety. While Ghadery's love for her family is clear, she is not afraid to critique their contradictions. Her mother, for example, disapproves of Farsi being spoken because it excludes her. Ghadery suffers under her patriarchal father's double standards. Her brothers socialize freely, but Ghadery's physical appearance, friends, and behaviour are scrutinized by her father. Ghadery does not fit the white beauty standards that surround her. Her father insists women should be "thicker;" her mother keeps Slimfast in the cupboard. Her brothers tease her about her large "Persian nose"; her mother suggests they can "fix" it. Racism at school makes Ghadery want to disappear.
Ghadery's narration is brave. Her attempts to cope with anxiety-driven issues are often unhealthy. She drinks, and binges and purges, to dull the pain. She turns to food deprivation and excessive exercise to "fix" her body. After self-harming with a knife, Ghadery gets stitches that "itch and pull as the skin fused." The scarred skin embodies the process of healing, and the forging of her identity from disparate, often hurtful elements. It also suggests the possibility self-growth.
Valuable lessons emerge from Ghadery's complex identity struggles. Exercise, medication, natural remedies, therapy, love for and from her own family, and the support of other women help Ghadery heal and grow. While her first three children have her husband's last name, Ghadery gives her fourth child, a son, her last name. The act of naming is empowering, unlike accepting or rejecting labels from others.
Similarly, in writing her memoir, Ghadery transforms her experiences. By the final stories, there is a shift in how she sees herself. Noting that various sides of her family pronounce her first name in different ways, Ghadery acknowledges "the fluidity" of her identity: "I can pick and choose who I want to be; who I think I need to be at any given time." She realizes, too, that self-acceptance is an ongoing practice with the potential "to experience humanity as it should be: undivided."