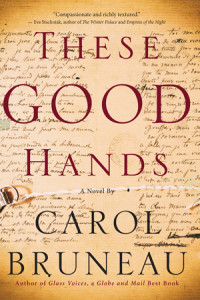 These Good Hands is Carol Bruneau's sixth novel. Published in May 2015 by Cormorant Books, These Good Hands is a fictionalized biography of nineteenth-century French artist Camille Claudel. The book explores mental illness, misogyny, compassion, and the enduring power of art. It focuses in part on the strained relationship Claudel had with her mother — a relationship tempered by social attitudes about women's "proper" behaviour.
Understorey Magazine spoke with Carol about her inspiration for These Good Hands, what she learned about Claudel, motherhood, and illness, and how she kept writing through the ten years required to create this book.
Understorey Magazine: What inspired you to write about Camille Claudel?
Carol Bruneau: I first heard of Claudel ten years ago through a tiny display, part of a Rodin exhibition, at the Art Gallery of Nova Scotia. Rodin was Claudel's teacher. He was forty-two and she eighteen when they first met in Paris in the early 1880s and began their affair. Imagine, a middle-aged instructor hitting on a talented teenage student who was keen to get ahead in a tough career. Sex was an assumed perk of artistic "collaboration" — this at a time when women artists had to get government dispensations to wear pants. The Rodin display told little about Claudel other than that she was Rodin's student/model/muse and mistress and that she died after spending thirty years in an asylum. The fact that she was a brilliant sculptor was mentioned, but more or less in passing.
UM: Motherhood shaped Claudel's life, even though she was never a mother herself. How does motherhood figure in your novel?
CB: Claudel's mother felt that her sexual behaviour — her relationship with Rodin — was an unforgivable disgrace to the family. When Claudel was in her twenties, symptoms of mental illness began to manifest and her mother thought her even more of a social liability. In 1913, Claudel was committed to a French asylum and diagnosed with what we might call schizophrenia. Her mother never visited, although she corresponded with her occasionally by sending small care packages to the asylum, mostly food.
Even more heartbreaking, on several occasions Claudel's doctors found her well enough to be released into the care of her family, and each time Claudel's mother absolutely refused to allow it. In letters, she wrote that Claudel had "caused them enough suffering" and under no circumstances would she accept responsibility for her daughter.
Social stigmas regarding mental illness and standards of "moral" behaviour certainly played into this, but even so, the mother's lack of compassion is striking, and certainly seems, from our perspective today, to be unusually harsh.
My novel uses key pieces of Claudel's artwork as touchstones in her narrative. I've also invented a work-in-progress called "Maman et Enfant" that Claudel creates and hopes her mother will appreciate as a token of their "natural" affection.
There have also been suggestions that Claudel and Rodin had at least one child together and it's easy to assume that she had an abortion at some point; this is another motherhood-related plot point in my novel. Claudel's inability to become a mother herself may have caused her further grief, especially given her difficult relationship with her own mother.
UM: How is this book and its themes of motherhood, misogyny, and mental illness, related to your previous novels?
CB: These Good Hands revisits themes explored in my previous novels, but considers them from more extreme, even radical, perspectives.
My 2005 novel Berth likely predisposed me to Claudel's situation. Berth is set in the 1980s and explores the limits of maternal selflessness; how an otherwise "good" mother risks compromising her child's interests to act in her own largely sexual interests. The central character in Berth suffers the psychological effects of social isolation and ever-present misogyny, acting in ways that I think shed light on persistent double standards regarding "proper" female versus male behaviour. Berth was a bit like getting my feet wet, preparation for diving into the more intense, more exacting challenge of writing about a clinical case of mental illness and the research that necessitated.
My last novel, Glass Voices, revolves around a mother who loses a child in the Halifax Explosion, and how trying to reconcile herself to this loss — and the accompanying guilt she feels over surviving when her child apparently hasn't — prevents her from seizing life's possibilities. In a way, These Good Hands revisits the kind of longing that this character feels, but looks instead at the severed mother-daughter connection from the child's perspective.
As for the theme of motherhood, it's like oxygen in just about all of my writing. A mother of three, I lost my own mother while in my mid-twenties and before I had my children. So motherhood is a theme that continually intrigues me with its endless variations to explore. Of all the things one can write about, in all its permutations motherhood is one of the most interesting, timeless, and universal.
UM: What is Camille Claudel's legacy?
CB: Because she destroyed much of her later work — and because during her long incarceration, pieces went missing — her oeuvre only comprises ninety pieces or so, including originals and copies. A good deal of her work done as Rodin's apprentice was incorporated into his famous pieces. She was expert at sculpting hands and feet, for instance, and made many of the figures for his Gate of Hell, yet art historians balk at ascribing her authorship of specific pieces.
As far as I've determined, at that time, no other European sculptor with skills of Claudel's calibre used the medium to explore themes so directly related to women, and in ways that refuted — subverted — the romantic, self-serving representations her male peers created. In works such as Clotho (1893), Claudel focused on telling the truth about women's lives. Eschewing any traditional ideas of beauty in art, pieces like this must have blindsided her contemporaries, and attest to her courage and fiercely distinctive vision.
As an inspiration to artists generally, her legacy is huge. It is revered in France. In North America, sadly, it's barely recognized but this is already changing, I think, as more people discover her. Better late than never. The fact that her art transcends and truly outshines the tragic circumstances of its creation is inspiration to all.
UM: These Good Hands took ten years to write. How do you maintain commitment to and enthusiasm for a project over such a period?
CB: I take inspiration from my subjects themselves. Glass Voices took eight years to write, and in that case I'd think about the perseverance required of Halifax Explosion survivors any time I felt whiny. With this book, the tragedy of Claudel herself made me determined to persevere — although on several occasions I almost despaired because of a perceived disinterest in its subject, and filed the thing away "for good" in a drawer. It would have become the permanent elephant-in-the-room if several friends and family members hadn't pestered me about it. And a couple of trips to France — after the initial trip to do research — fanned the flames. Then, in 2012, I saw the world's only permanent collection of Claudel's work in the Musee Ste. Croix in Poitiers, which is also the home of my ancestors and, well, that was the nudge I needed — that and a timely note from a friend about rejecting rejection.
UM: Now that the book is out, how will you spend your summer?
CB: Well, having just finished a new collection of short stories, I'm presently trying to pick up the threads of a novel I started in 2010. I'll be doing some readings in Toronto, and then, I hope, hiding out on my deck, writing.
For a chance to win a copy of These Good Hands leave a comment below! Courtesy of Cormorant Books.