It's estimated that, in Canada, our food travels an average of 2,500 kilometers before arriving on our plate. That slice of holiday chocolate—cocoa, sugar, palm oil—likely travelled much further, almost 50,000 kilometers according to one study.
With initiatives like "food miles" and "buy local," we're learning more about the distance our food travels and the advantages of choosing food made closer to home.
But the idea of food "travelling" is still abstract. Food doesn't move by itself. Chocolate, for instance, requires growers, harvesters, processors, packers, transporters, manufacturers, marketers, retailers, shoppers, and sometimes servers to "arrive" on our plate. These general categories hide many more people who bring us food: cleaners, chemists, mechanics, logisticians, cashiers…. Hundreds of people as well as the families that depend on them.
Throughout the coronavirus pandemic, we've become more aware of these complex supply chains because glitches have made the links visible. When grocery stores ran out of Robin Hood flour last spring, it wasn't the flour that was in short supply. It was the iconic yellow packaging. When did we last consider where those familiar yellow bags come from?
In realizing the many critical steps of food production and distribution, we have have started talking about essential workers. We've started praising essential workers. Thanking essential workers.
Or have we?
Have we really thought about these workers—the woman at the cash, the dishwasher in the restaurant, the trucker on the highway—or have we only thought about the work that needs doing? Flour bags that need to be made. Check-outs that need to be staffed. Chocolate that needs to be shipped.
Do we value essential workers or just their essential work?
In this issue of Understorey Magazine, we share stories of the many workers who bring food to our table. We share small details of their everyday lives in the hope of better seeing them as individual people who contribute enormously our everyday lives.
The writers and artists published here show us the tired but still playful hands of production line workers; the clenched, hesitant hands of a livestock farmer on culling day; the shaky hands of a veteran restaurant server; the knowing hands of a decades-long canner; the nimble hands of a food-cart cook; the scarred, strong hands of a butcher; the grieving yet giving hands of a community-kitchen worker.
So many hands. And so often women's hands. Most food work done in the home and garden, in the "front of the house" in restaurants, at the cash register in stores, at the bedside in hospitals—the lower-paying or unpaid work—is done by women, very often women of colour. This is one reason why rates of Covid-19 infection have been higher for women than men during the second wave of the pandemic: more women are on the front lines, not just of health work but of food work too. In higher-paying professional and management roles—chefs, owners, CEOs—and traditionally male work like farming, fishing, and transport, women remain vastly underrepresented.
Perhaps in addition to "food miles" we need to consider "food hands" when choosing what we eat.
We hope this issue of Understorey inspires us all to take a moment to appreciate the often-unseen hands that bring us food. And then take another moment to appreciate the hands we see every day, those of family, or housemates, or partners—even our own—that plan, buy, harvest, cook, and clean up the food that keeps us going, from one year to the next.
Here's to a brighter and more joyful 2021.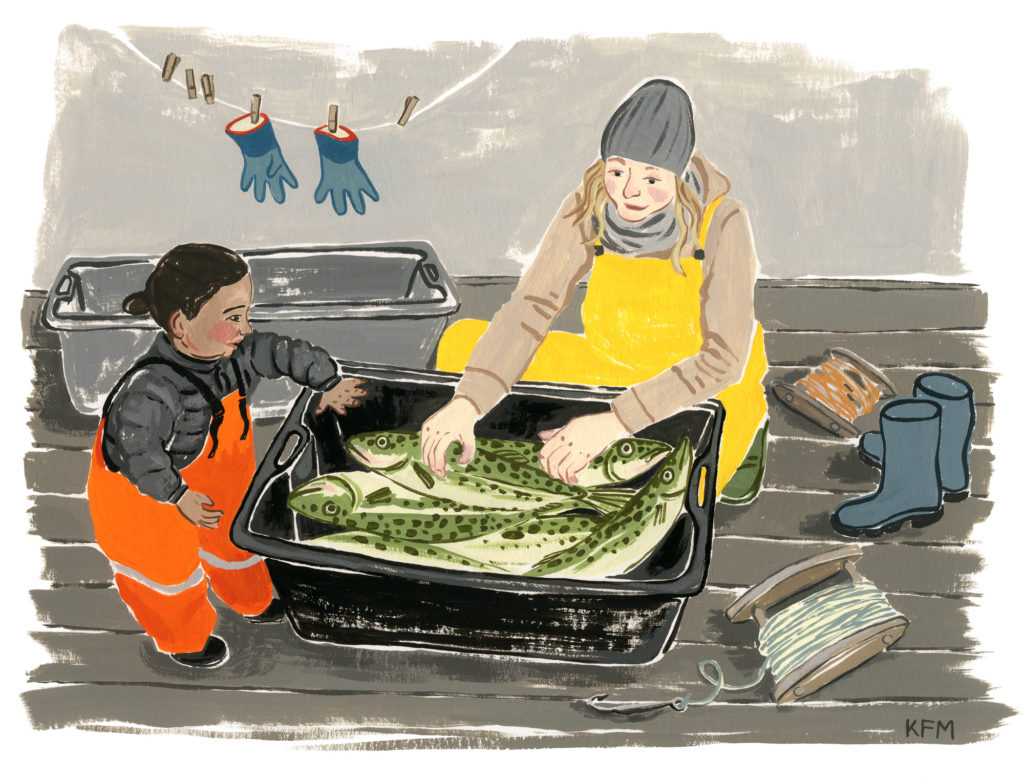 We Still Return for the Cod by Kat Frick Miller
Thank you to our cover artist for Issue 19, Kat Frick Miller. Her painting We Still Return for the Cod was originally created to accompany the article "Cod Haven't Fully Returned, but We Still Return for the Cod" by Jennifer Thornhill Verma, published in The Independent NL in October, 2020. You can see all Understorey Magazine covers here.