These four quilts were crafted by Marlene Dorrington and Myla Borden of the Vale Quilters Association in New Glasgow, Nova Scotia. The quilts were designed by Nova Scotia artist, writer and arts organizer David Woods and are based on images collected during his travels through Nova Scotian communities.
About Myla Borden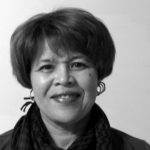 Myla Borden turned to quiltmaking in 1993 when she was unable to find employment after earning her teaching degree from Nova Scotia Teachers College. Tutored by her aunt Frances Dorrington, a long-time quiltmaker, Myla initially made pattern quilts taken from popular books and magazines. In 1994, she joined the Northumberland Quilt Guild and began attending workshops to improve her quiltmaking techniques. In 1998, she made the quilt Passages for the exhibition In This Place. Passages depicts the journey of Africans from the continent through the slavery era in the United States to freedom in the northern free states and Canada. Unlike her previous quilts, Passages was a picture quilt using appliquéd human figures, African "nationalist colours" (red, green and black) and African patterns for the quilt borders. It was one of the most talked-about pieces in the exhibition and a bold representation of quilts as an art form. Inspired by this experience, Myla began making picture and narrative quilts that drew from stories and images of African Nova Scotian history and culture. She also began collaborating with artist/curator David Woods, developing original quilt designs using his artwork. Myla Borden was president of the Northumberland Quilt Guild for two terms (2004-2005). She is also a co-founder and the first president of both the African Nova Scotian Quiltmakers Association and the Vale Quilters Association in New Glasgow. Her quilts have been exhibited at the Art Gallery of Nova Scotia, the Museum of Industry in Stellarton and the Textile Museum of Canada in Toronto.
About Marlene Dorrington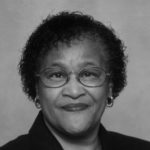 Marlene Dorrington was born in Halifax and has lived in New Glasgow since 1952. She began quiltmaking after her retirement from the Michelin Tire plant in Stellarton in 1993. Like her daughter, Myla Borden, she was taught the basics of quiltmaking by Frances Dorrington (her sister). Marlene is a member of the Northumberland Quilt Guild, the Black Artists Network of Nova Scotia and the Vale Quilters Association. Marlene is a traditional quiltmaker known for her precise cutting and sewing and her mastery of traditional quilt patterns. Lately, she has been integrating African fabrics and using vibrant colour compositions in her quilts. Her quilts were exhibited in When Black Women Useta Fly (2002) and Our Ancestor's Garden (2007).
About The Quilt Designs by David Woods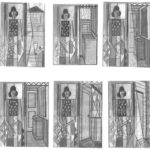 Initially, David's interest in the quilt was solely as a craft object. In his curatorship research for In This Place, the very first exhibition of African Nova Scotian art in Nova Scotia (Anna Leowens Gallery, 1998), David travelled to Nova Scotian communities looking for paintings, drawings and wood carvings. In North Preston, a friend commented on his search: "Are you including quilts in your art show? Because that is what the women did–quiltmaking." This comment prompted David to add quilts to his search and he eventually selected eight for inclusion in the exhibition.
In the following years, David became more familiar with the history of quiltmaking and its relationship to women and the Black community. As he developed close friendships with several quilt-makers, the quilt began to transform his own artwork. In 2007, David began creating "quilt drawings," pencil sketches of on-the-road experiences. The incorporation of quilt patterns into these drawings created an epiphany: they made each drawing an entity, a complete art piece.
When David showed some of these drawings to the Vale Quilters in New Glasgow, the members were intrigued by the sketches and wanted to try their hand at creating quilts from them. Myla Borden was already crafting picture quilts about African Nova Scotian people and history and was the first to attempt a quilt from David's sketches, resulting in The Ecstasy of Amelda Colley in 2007. In 2010, Myla suggested an exhibition based on David's quilt drawings. Each member of the collective chose two drawings and their quiltmaking resulted in the very successful The Secret Codes: African Nova Scotian Narrative and Picture Quilts.
The exhibition title references the use of quilts as a subversive medium in times of slavery. Particular quilt patterns indicated safe houses to runaway slaves on the Underground Railroad. The idea of secretly-coded quilts has become an important leitmotif in African American and African Nova Scotian literary and artistic creation. The exhibition title also references "secret experiences" Black women shared while making quilts. David is thankful that he has been allowed to enter this "secret circle" and has been immensely enriched by the experience.