To everything there is a season and fall is Canning Season. Surplus in the summer garden goes into jars to nourish us through those long winter months. The pop of a well sealed Mason jar brings a smile, a taste of work accomplished, a memory of warm soil between the fingers, bird song and sunshine, in those barren months to come.
I am a compulsive canner. If it is edible it must be eaten. If not eaten immediately, it must be preserved for future consumption.
Is this a hereditary trait? I stem from a long line of farmers but are we not ​all ​the progeny of hunter-gatherers? Of course we are—or humankind would not have survived. Yet so few today, here in Canada, have knowledge of the growth and source of our daily food.
For example, our cottage property on a river bank beside our farm was rented one summer to a family for their weekend retreat. Highly educated were they: she a professor, he a lawyer. My kitchen garden, between the cottage lawn and riverbank, was large and highly productive that summer.
"Help yourselves to the green and yellow beans and some carrots," I said on their arrival one Friday evening in July. On Monday, it was apparent nothing had been taken. The following weekend the couple admitted they did not know what beans looked like.
"Do they grow in the ground or above?" asked the wife. "The carrots, I did recognize them, they sometimes leave the tops on in the grocery store, but I found them too hard to pull from the ground."
Astounding, I thought, not having the strength to pull a carrot, not knowing beans grew above the ground! It is true, beans are shy, one might say. Shy of the pod bursting in the sun. That is why they hide behind their leaves. Mine, now overripe, had to be dried and shucked from their pods to save for the winter soup pot.
In the late eighteen hundreds, my maternal grandparents had to move off the farm, due to my grandfather's allergies. They bought a hotel in Guelph, Ontario, and purchased their dining produce from relatives back on the farm. There were no freezers in those days so my grandmother preserved. She made all the pickles, jams, and jellies for the hotel, put down peaches, applesauce, rhubarb, apple butter, chutney and the like.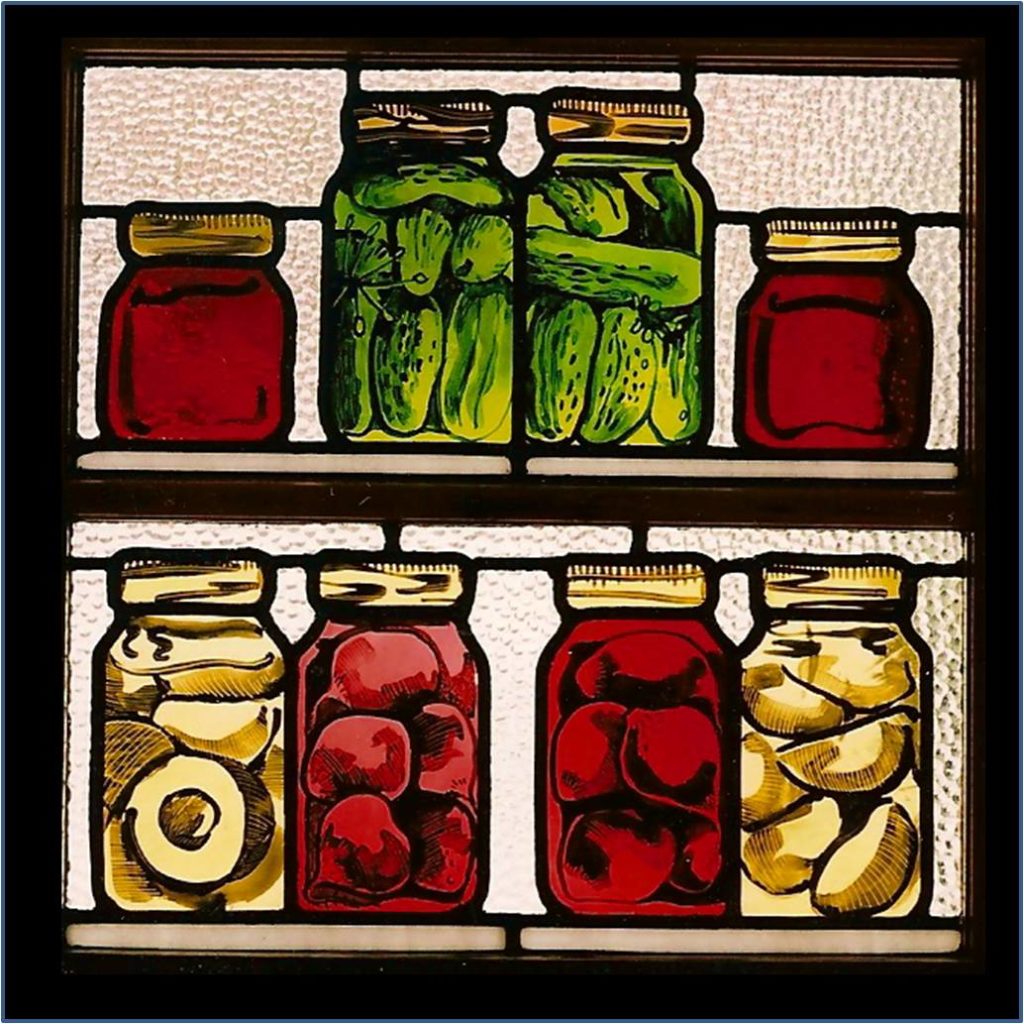 Pickles by Lynette Richards
Winter found apple, cherry, pumpkin, and green tomato mincemeat pies on the hotel menu, along with baked beans, cabbage salads, sauerkraut, headcheese, heart soup, smoked sausage, chops, and hams. Apple and tomato juice was bottled and capped. When the hotel was sold and my grandparents retired, my grandmother still preserved: stirring, tasting, adding to the vegetables simmering in giant cauldrons; bottling, capping, and stocking shelves in the basement. The surplus was always given by the box-full to the church for distribution to those in need.
In the 1940s, when we visited relatives in Burlington, we always stopped for dinner at the renowned restaurant The Estaminet. Why, one might ask? For the preserves made by the establishment's owner, Mrs. Byrens. Unique and spicy they were and done down every year for the pleasure of her guests. Too much unnecessary work one might think, with a cannery short blocks away. But no, that extra effort, that special taste is never too much work. That is what moves food from mere need of sustenance to pure delight.
During the Second World War everyone had a garden, a ​Victory Garden they were called. The whole family participated. It was fun and a way to feed ourselves and store for the future, whatever that uncertain future may be. No matter how small the yard there was always room for herbs and vegetables to grow.
As an adult with my own home and garden, I preserved to feed a growing family. There were wild strawberries in the fields, raspberries and blackberries in the fence lines, leeks in the woodlot, all free for the picking. I purchased Mason jars by the case load, filled, capped, and sealed in the copper boiler my grandmother had once used. Vegetables were pickled or stored. Nothing was wasted; overproduction was given away as grandmother had done.
Once, during a renovation in our farm home, a plumber asked me to stay in my kitchen while he went to the basement. He would call to me when I was to turn on the kitchen faucet. I waited and waited and waited for that call. When none came I stood at the head of the basement stairs and called to him: "Is something wrong down there, it's been a long time…."
His reply, "Do you know you have 149 jars of jam down here?"