Last week (September, 2014), the Writers' Federation of Nova Scotia announced the winners of their annual East Coast Literary Awards for published works of fiction, non-fiction and poetry.
As always, a batch of fine contenders were shortlisted. As almost always in the publishing world, most of the shortlisted books and all of the winning titles were written by men.
Now, I'm sure the WFNS judged on merit alone. I'm not questioning their process or the literary skills of the winning authors. I would like to draw attention to still-prevalent trends in publishing, however: men publish more, are reviewed more, and win more awards.
Among the suggested reasons for this state of literary affairs:
Fewer women are published in literary magazines, which function as gateways to publishing contracts.
Women are less aggressive than men in resubmitting rejected work.
More women than men juggle careers, caregiving and housekeeping; writing remains a hobby, not a profession.
The publishing world is still male-dominated and inherently sexist.
While there is no pat explanation or quick antidote, we can—and must!—continue to read, encourage, mentor, support and celebrate women writers. More publishing deals and accolades for women will follow. This is part of our mission at Understorey Magazine.
And so, without further griping or ado, we celebrate the three fabulous women-authored books that were shortlisted for a 2014 East Coast Literary Award.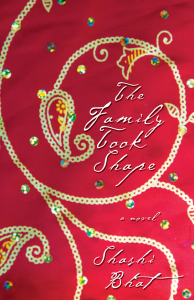 Fiction: The Family Took Shape by Shashi Bhat (Cormorant Books). Six-year-old Mira Acharya lives in Richmond Hill, Toronto, with her mother, older brother, Ravi, and a loose-knit community of "aunties" and "uncles." We know Mira's father is dead, that Ravi is in special ed, and that her mother is quietly unraveling. Throughout her childhood, and into her teens and early adulthood, Mira must reconcile chance and will, parts of life she can control and those she has been dealt. In doing so, Mira grapples with death, ethnic and immigrant identity, mental illness, sex, self image, and the bonds of family.
Poetry: Hooking by Mary Dalton (Véhicule Press/Signal Editions). Hooking is a book of centos, a poetic form in which lines from other poems are woven—or hooked—into new literary works. In Hooking, her fifth collection, award-winning poet Mary Dalton honours both the traditional craft of rug hooking and the many writers whose poems form the strands of her own. Themes of handiwork and creativity run through the book: "Cloth," "Brush-Stroke," "Braid," "Cross-Stitch." And like a rug hooked from scraps of saved cloth, there is overall pattern and texture in Hooking—as well as sprigs of unexpected colour and curiosity.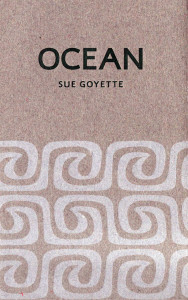 Poetry: Ocean by Sue Goyette (Gaspereau Press). Sue Goyette has won many literary prizes, including an East Coast Literary Award for poetry in 2012. Her latest collection, Ocean, is beautiful inside and out. The cover feels like handmade paper and a simple wave-like pattern carries readers into the book, and into the ocean. This is no ode to the sea but described instead as a biography. The fifty-six poems rock us back before ancestors salted the waters with tears, then thrust us forward to 3D ocean films and scratch-and-sniff coastal cards. As readers, as maritimers, we abide the ocean, alternately observing, acquiescing, sinking in.