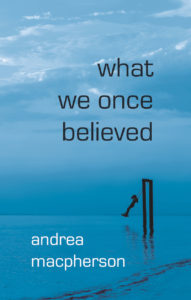 I knew that What We Once Believed (Caitlin Press, 2017) would speak to the feminist-mother in me when I read the epigraph, a poem by Catherine Barnett about mothering the mother and a quote from Muriel Rukeyser that asks: "What would happen if one woman told the truth about her life? The world would split open."
What We Once Believed, the latest novel by British Columbia author Andrea MacPherson, provides a glimpse of such consequences—and they are both absorbing and complex.
Set in the small, idyllic community of Oak Bay, Vancouver Island, in 1971, What We Once Believed tells the story of four female characters, but centres on Maybe Collins, a precocious eleven-year-old. Maybe longs to understand her mother, Camille, who abandoned her nine years earlier. She follows the events of late '60s and early '70s, especially the women's movement, and searches for her mother among newspaper photos. When Camille suddenly reappears one summer, Maybe learns she is the well-known author of a memoir about motherhood and feminism, a book that barely mentions Maybe at all.
MacPherson's writing is impeccable. Her metaphors and images are beautiful and, I suspect, will ring true for many women readers. For example, an early description of a photo of Camille as "slightly blurred, the lines indefinite, out of focus" is, we learn, exactly how Camille feels. Gigi, Camille's mother, makes a seemingly offhand comment that men take up too much space. And Robin, a married, stay-at-home mother to Maybe's best friend, is "flattened out, colourless" and "torn apart, shredded by motherhood, wifedom."
Through such details, MacPherson creates a world where women seem spectators to their own lives and yet struggle to take control. The story reminds us that in the almost fifty years since 1971, little has changed. Camille views motherhood as an oppressive site used by a patriarchal society to control women. She is, of course, judged by everyone—other characters in the book and perhaps some readers too—for not being sufficiently motherly. At the same time, Camille judges Robin for being too motherly while Robin, reading Greer and Steinem, feels motherhood is a "choice" and she is not "just" a mother. Even Maybe holds her emotions inside, channeling her hopes about her mother into a scrap book and pinning her worth on her mother fitting into a socially accepted standard of "woman" and "mother."
The issue of choice runs deep in MacPherson's story, as it did in 1971—and now. Many feminists argue that choice is for the privileged and this is often implied in the novel, as the women sometimes choose one oppression over another. Camille says, we are all still "exploring what it really means to be a woman" within "all these constraints. All these expectations."
I try to imagine how an adult Maybe would look back on the summer Camille returned. Would she see her mother in a different light? Camille's truth "split open" Maybe's life but would it have been better for her to live a lie, with a mother that did not want that role? Mothers come in many forms. As we learn, none of the women in What We Once Believed tells another the truth about their life, which leaves Maybe to create an unrealistic portrait of motherhood, womanhood. Maybe an adult Maybe (such an apt name for her character) would realize that the perfect mother, the one she envisioned, cannot exist. So why, in 2017, do we insist on telling each other and our daughters and ourselves that she can?