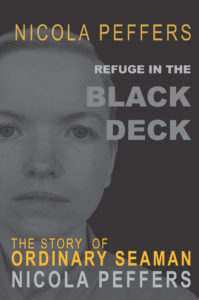 Nicola Peffers' memoir, Refuge in the Black Deck (Caitlin Press, 2017), tells of the struggles many women face to make it in a "man's world." Peffers, an Alberta native hailing from my own hometown of Fort McMurray, gives an honest-to-a-fault description of her time as an Ordinary Seaman in the Canadian Navy. Reading the book, I found myself alongside Peffers as she endured harassment, discrimination and exhaustion aboard the HMCS Winnipeg.
Peffers began her career with high hopes, bright prospects and a desire for camaraderie. Aboard ship, however, she quickly found herself at the bottom of the ladder, washing dishes and stuck with grunt work. The friendships that she assumed would come naturally did not come at all. Fitting in was a constant struggle throughout her time on the Winnipeg, to the extent that she sought comfort from a lukewarm water pump in an empty part of the ship, the "black deck."
The author's apt use of imagery and vivid descriptions bring readers right into her life aboard the Winnipeg. I can sense the warmth of the red light as she sleeps in her bunk and taste a sip of the cool, refreshing Kokanee down in the Cave. I imagine the sway of the ship on the waves and the blinding brightness of the sun after so many days below deck.
Yet more than once, the loneliness, extreme exhaustion and sexual harassment that Peffers endured caused my stomach to contract. I felt both empathy and anger. Throughout my reading, I often asked myself how I might have coped in similar circumstances. Would I would have done anything different? In most cases, the answer is no. I found the consistent sexual comments and advances from male crew members both disturbing and disgusting. For example, an intoxicated senior ranking officer asked Peffers if she was a virgin. Peffers, stunned, failed to respond right away and then had to remember her place and respond respectfully rather than say what was actually on her mind. I thought her attitude courageous, even admirable, especially when face to face with superiors.
Peffers very honestly discusses her battle with mental illness both throughout and after her service. Misdiagnosed with bipolar disorder, she pushed for a diagnosis of Post-Traumatic Stress Disorder. Society often places a taboo on this disorder, so I applaud Peffers for showing her readers the emotional pain that accompanies an undiagnosed or misdiagnosed illness. If I could ask for anything from this memoir, it would be to further flush out these final few chapters to give readers even more insight into PTSD and how she fought it.
Although Peffers reached a low point aboard the HMCS Winnipeg, my respect for her grew throughout the story. Both her years as an Ordinary Seaman and her memoir are testament to the necessary and ongoing struggle for gender equality.
Part of a series of reviews to accompany Understorey Magazine's Service Issue.