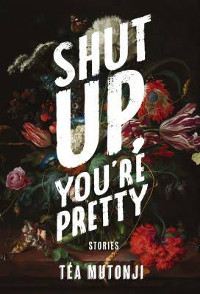 "But who was I?" asks Loli, the singular narrative voice uniting Téa Mutonji's engaging collection of short stories. Shut Up, You're Pretty (forthcoming, April 2019) is Mutonji's debut and the first publication by VS Books, a new imprint of Arsenal Pulp founded by Vivek Shraya. The stories follow Loli from childhood, when she moves from Congo to Scarborough with her family, through to young adulthood. Loli's question, posed after an awkward night out, highlights the themes of self-exploration and identity that permeate the book.
While each story is self-contained, together the stories almost read as a novella. The narrative gaps between the stories create an emotional distance from Loli but also add to her complexity. Loli presents herself in wide range of situations: working as a waitress and sex worker, losing her virginity, attending school, falling in love with women and men, partying, facing abortion, and coping with the death of a parent. Insightful observations about women and immigrant and black life are vital aspects of Loli's narration.
Loli is named after a river in Congo and a song her mother sang when they lived there, though Loli notes that her mother stopped singing after immigrating. Yet to Loli, her name remains a gift she can give to someone else. Initially, Loli puts her hopes in neighbour Joliette, whom she nicknames Joli. As girls, Loli and Joli play at being grown women. Offering men a "feel" in exchange for cigarettes is exhilarating. "We are women!" they laugh. When more daring transactions occur, Loli retreats, so she "can decide which part happened and which part [she] imagined."
In subsequent stories, Loli navigates other roles. In "Down the Lakeshore," she struggles to "perform the correct role" of daughter during a visit with her father. Loli suppresses questions and anger over her father's absence from her childhood—due to immigration and work—in order to protect his feelings and version of their past. In "Phyllis Green," Loli's partial enabling and witnessing of a troubling sexual event involving classmates and the only other black girl in class raises questions about consent, conformity, and how the two black girls find differing ways to survive in an otherwise all-white school. Loli briefly loves a "housewife role" in "The Boy From My Youth." Realizing the young man has been "fitting [her] into his narrative," she leaves the relationship. Lovely words describe her liberation: "Rocks lifting from your chest without you knowing they were there in the first place. The moon guiding a path without a pavement to walk on. I liked the night. I liked how it came at the end of every day, no matter what."
Loli is both bold actor and intense observer. Gradually she begins to see poetry in the world around her and see herself as a writer. Reconnecting with her mother, after leaving home, Loli recalls her mother's post-immigration struggles with language, poverty, and sadness. As a young adult, Loli is able to transcribe her mother's first English: "Words that meant, mother, immigrant, fighter."
Loli is a character we don't often experience in Canadian literature: a black, Congolese girl and woman growing up in suburban Toronto, exploring her bisexuality and desires, making mistakes, navigating poverty, work, romantic love, friendships, and family—and becoming a writer. Each life experience pushes Loli toward a future self. She is a character in flux: sometimes messy and raw, at times beautiful and open, finding her way. These are coming-of-age stories, yet Loli remains a work in progress.