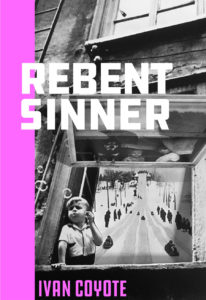 "I read and then reread Stone Butch Blues [by Leslie Feinberg] in 1993, and […] I recognized myself in someone else's story for the very first time.
"I recognized myself and picked up a pen, and now it's twenty-seven years later and I have not put it down."
Observations like this are the heart of Ivan Coyote's remarkable new book, Rebent Sinner (Arsenal Pulp Press, 2019). A collection of anecdotes, memories, and essays that range from a single sentence to several pages, Coyote takes the reader on an odyssey-like journey through life as a trans person, a working artist, and a storyteller. The stops along the way range from a trailer party in Whitehorse to a prison-turned-arts-centre in Hong Kong, but Coyote skillfully guides readers to each place with their clear, passionate voice.
The book is divided into several chapters loosely linked by theme. "Blood" includes stories that revolve around family; "Street" is full of anecdotes of random and sometimes humourous encounters on the street. Others, like "Rebent Sinner," tackle questions of gender identity and dealing with Men's Rights Activists on the street and online.
One of the most poignant chapters for me is "Class," which includes stories about Coyote's work in schools. Approached by a girl who is terrified to come out to her evangelical father, Coyote says, "I told her what my grandmother once told me: 'God doesn't make mistakes. You are exactly who you are meant to be.'" Coyote's concern for these kids, who face all kinds of struggles, is palpable and deeply affecting. "We need to soften this world up," they write, "not make our kids harder."
There are a few themes that resurface throughout the book. One is the importance of elders: "We are in danger […] of forgetting our elders. Forgetting […] to learn from their words." Coyote's book is an effort in part to stop this forgetting. In writing down stories about the first lesbians they met, about protesting with AIDS activists in the 80s, Coyote points to the importance of having mentors when you're young, remembering what they taught you, and passing that on.
The role of stories is another theme that is woven throughout. This is a book of stories, about stories by a writer who has been called one of Canada's best-loved story-tellers. There is a courageous vulnerability in Coyote's writing, in which they offer up their own stories in the hope of fostering connections and overcoming prejudice. In response to a teacher who is planning to teach Coyote's work, they write, "I remain convinced that [Stone Butch Blues] saved my life […] I write myself down to find myself, and so that others like me may find themselves a little, too."
I was continually moved while reading Rebent Sinner. From the boss who insists on calling Coyote by their dead name, to the injured saxophone player who can no longer play, the characters and stories pulled me in and put me right there alongside them. The book is hilarious, heart-breaking, uplifting. It is, in other words, profoundly human.
Fun fact: the title Rebent Sinner is very Vancouver. It is a play on the words of sticker art that read "repent sinner," and appeared all over the city in the late 90s and early 2000s. No one has ever discovered who was responsible.