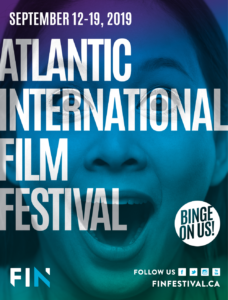 Did you attend the 2019 Atlantic International Film Festival? Are you planning to submit a film to the 2020 festival? We are now about half way between the '19 and '20 festivals so what better time to post a review? Last September, we sent our intrepid reviewer Corinne Gilroy to FIN. (Yes, the Atlantic International Film Festival is known as FIN. No, FIN is not an acronym; it's just a name.) In the diary entries below, Corinne relates her experience at FIN, focusing on select films directed by or about women. Enjoy—and maybe we will see you next year!
~
Although 2019 was my first FIN, it wasn't my first kick at the film canister. I was but a young whippersnapper, newly away at school, when the Tidal Wave (now Silver Wave) Film Festival launched in Fredericton in the early aughts. My friends and I made a November ritual of shuttling our bundled-up bodies between the rigid bear-trap seats of an old UNB auditorium and the drafty uptown multiplex. We wrung every last ounce of movie magic out of our student passes and cut our teeth on quirky world cinema in the process.
So much has changed in two decades. Gone is my stamina to see four films a day, my flexible student schedule, even (especially) my ability to sustain myself on M&Ms and theatre nachos swimming in queso. But I have changed for the better, too: hundreds of mistakes made and learned from; hundreds more films watched and books read; convictions hard come by and etched deep, such as a dearly held belief in the importance of gender equity in the arts.
And while Hollywood has made progressive-ish baby steps, Halifax's very own nimble, thoughtful FIN Festival has broken into a gallop. To date, only one woman (and zero non-binary or genderqueer people) has won an Oscar for Best Director. The #MeToo movement continues to challenge—but seldom unseat—members of the old boys' club. Meanwhile, the lineup of FIN 2019 included 48% women directors and countless scripts and characters that passed the Bechdel test with flying colours.
The following are some of my 2019 FIN Festival notes and observations. My hope is that these short reviews of films directed by and/or starring women combine to form a chronicle of positive change, a celebration of the emancipatory potential of art, and a gentle critique of our shared assumptions and biases that make the fight for gender equity more difficult than it needs to be.
Date: September 12, 2019
Film: Murmur
Director: Heather Young (Nova Scotia)

Diary: I am grateful to spot a writer/director friend in the very fancy opening gala. We chat; I drink two very good local beer. My assigned seat is beside a talkative woman visiting from Ontario who says people keep telling her she gives off a Cape Breton vibe. She's not sure what this means and neither am I.
Murmur: Donna interrupts her quiet, ASMR-rich evening at home to smash open a cork-logged wine bottle against the edge of her kitchen sink. Thus is FIN's opening gala audience christened, startled awake, warned, and laughing uproariously. The quiet, measured tone of Young's debut feature (one of many brilliant plays on "murmur") rebounds immediately, but with a kind of edge or a background roar. As Donna deals with the consequences of her drinking via community service at an animal shelter, we are led quietly through her daily chores, small acts of compassion, her assistance with euthanasia, whelping, even spaying. Sweet, lonely dogs whimper in the background while Donna takes instructions from the woman who runs the shelter (always off-screen, somewhat like the teacher in Peanuts). Donna tries to phone her estranged daughter. Donna adopts a geriatric dog. Donna tries to phone her daughter again. Donna adopts another dog. Like someone try to walk on an ice-covered sidewalk, Donna slips, regains traction, loses it again, and everything around her is a dreadful but shimmering obstacle to her happiness.
Date: September 13, 2019
Film: What She Said: The Art of Pauline Kael
Director: Rob Garver (USA)
Diary: I crack open a book of short stories—The Boys of My Youth by Jo Ann Beard—to pass time in line before the screening. An exceptionally enthusiastic FIN volunteer punctuates her duties by recruiting me (and only me) into small talk. I wonder if she thinks I am reading out of boredom or loneliness—if, endearingly, she just takes her volunteer duties that seriously.
What She Said: Spending two hours of my FIN weekend with film critic Pauline Kael (d.2001) is a personal challenge to shun procrastination, dump my imposter complex, and just bloody well do the thing I am here to do: write about film. Kael sounds a great deal like the equally indomitable Margaret Atwood―that same playfully reproachful, disaffected, slightly nasal tone―and her impatient glare reminds me of my smart, spiteful grandmother. Kael's career as a critic (including many years at the NY Times) was characterized by the flamethrower-in-arms of her relentless wit, which she deployed liberally both in person and on the page. What She Said's invigorating incidental feminism―Kael beat many established male critics at their own game―is tempered somewhat by the film's valorization of Woody Allen and Marlon Brando (in the context of Last Tango in Paris). But Kael's provocative, controversial dislike of Holocaust chronicle Shoah (she reminds us that compelling subject matter is not a shortcut to artistic merit) provides useful contrast here. In the '70s, Kael couldn't have known about Brando and Bertolucci's conduct on the set of Last Tango, nor about Woody Allen's conduct toward his future stepdaughter. Kael's writing is enthralled of both artistry and cultural context/dialogue, and she worked brilliantly, doggedly, and perceptively with the materials available to her. Whether the narrative of What She Said (as a documentary operating in a different time and cultural context from its subject) succeeds as well as Kael in negotiation competing social and artistic milieus remains, to me, a separate question entirely.
Date: September 13, 2019
Film: Portrait of a Lady on Fire
Director: Celine Sciamma (France)
Diary: A woman seated to my left is vocally horrified that people are allowed to eat at film festival screenings. If she has to sit beside another one of those "popcorn munchers" she swears she'll scream. I begin nursing individual potato chips until they go soggy.
Portrait of a Lady on Fire: This is one of the most ferociously feminist period dramas I have ever had the pleasure of seeing, and it succeeds via realism, not by force or narrative occlusion. The main characters, all women, are not time-travelling agents of twenty-first-century feminist activism; they are crafted in reaction to circumstances in eighteenth century France, and just happen to be doing so under our curious feminist gaze. Deep bonds in the absence of men are simply part of life, as are ceremony, ritual, sex, sisterhood, pregnancy, abortion, and motherhood. In my favourite scene, the three main characters (each from a different social station) visit a nighttime feast hosted by a village woman; they are transformed through communion and song. I left aching to see Portrait again, as well as revisit one of its distant relatives, Scorsese's 1993 adaptation of Age of Innocence—another love story beset, beautifully and infuriatingly, by the unrealistic social strictures of its particular historical setting.
Date: September 14, 2019
Film: The Rest of Us
Director: Aisling Chin-Yee (Ontario)
Diary: By now I've made a line friend, a professional writer who gets to screenings as early as I do, twice as many, and seems to know everyone who walks by. If I'm reading, he lets me read. If I put my book down, we gush about what we've seen and what's next. He says that if he wrote a book called The Boys of My Youth, it would be much thicker than Jo Ann Beard's.
The Rest of Us: "I didn't even know he took baths": the best line of dialogue from the entire FIN festival—and possibly the best one-line eulogy in history—cracks open this lighthearted debut feature like a nut under a mallet. The four main characters, all women and girls, scatter and ricochet when their ex/husband/father dies. Besides being a funny, thoughtful, fresh, well-acted story of dysfunction and coping, The Rest of Us is beautifully shot and edited. Harsh sounds and shapes collide as scenes transition; water (bathtub, pool, lake) functions as both a catalyst and a visual motif. Truth is diluted, dissolves, and later precipitates. The script eschews easy victim/perpetrator, protagonist/antagonist roles in favour of moral complexity: each character is cheating or lying about something, and everyone eventually finds some kind of redemption.
Date: September 15, 2019
Film: Jeune Juliette
Director: Anne Emond (Quebec)
Diary: Back in the saddle after a brief encounter with snack-induced gastroenteritis. Too many barbecue chips, too much chocolate, too much spicy tofu jerky, too many Szechuan peanuts. But not too many movies. Never too many movies.
Jeune Juliette: This is a tender, funny Quebecois coming-of-age film that, despite its wholesomeness and high-school setting, is not really a teen movie in terms of audience. It may speak most clearly to adults who went through school too big, too bored, too ready to get the hell out of there—as it certainly did to me. When one of Juliette's teachers asks her to help a new kid get settled in, our heroine begins to feel self-conscious about her status as the smart, responsible one. She pushes back, feels stifled, pushes harder—hurting and dumbfounding her friends and family in the process. Juliette's is not a duckling/swan narrative. She does not metamorphose; she does not have to metamorphose because, as the film makes clear, there was nothing wrong with this smart teen girl to begin with. Juliette comes full circle, gaining a stronger sense of self as she orbits. Her transit is wobbly, stumbling, gradual, and completely believable.