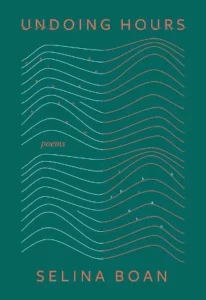 Selina Boan's debut poetry collection Undoing Hours (Nightwood Editions, 2021) sidelined me for weeks. Read a few pages, fill up on her heartfelt and playful language, feel the swell, come apart at the seams a little bit, put it down, try again; "take your mess / bless it and start over" (30).
Boan's poems are topographical, concrete, resonant like "messages threading through roots" (62), footsteps, vibrating engines. They take all the time they need to warm up, to untangle themselves—and so you must (take your time, wait, return).
Settler and Nehiyaw herself, Boan presents Nêhiyawêwin (Cree) and English as tools that can explore, breach, or harvest from the body—"blood skin pus / where pain lets itself out little by little" (72)—while bodies, too, are celebrated as instruments for confronting, embracing, or disassembling language, "cracking his skull" (32). It's a lot. In the best possible way, it's a lot.

In her acknowledgements—exuberant, extensive, and poetic in their own right—Boan breaks from the page to thank the reader (you/me, right now, singular) for spending time with her poetry. As if her inviting light of dandelions, suns, "Dorito dust" [50], and lemon slices could be ignored.
How does one even begin to live up to that generous thankfulness, not only as a reader, but also as a reviewer and a settler, all the way out here in Miꞌkmaꞌki?
Start by taking your time (mandatory; see above). Continue by resisting the habit or compulsion to translate everything—to render everything familiar, comfortable, and complete. Boan knows "you want / the piece of the story / that is clandestine / but i won't give it to you / & i'm not sorry / undo word after word" (86).
Read Boan's English and Nêhiyawêwin in concert. Watch and listen carefully for the context she crafts—rhythms and oscillations, pauses, spaces, touchstones. Sit with her syllables, her syllabus, maybe for hours, maybe coming undone.