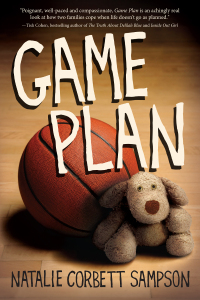 Natalie Corbett Sampson's debut YA novel, Game Plan, portrays teen pregnancy and open adoption. "My stories start from the truth of personal experience and—by asking 'What if?—grow into fiction," Natalie says. In her essay, "My Daughter's Mothers," she describes the personal truth that inspired her book.
Once upon a time… that's how fairy tales start. But the story that haunts me is not a fairy tale, at least not a classic one with an easy resolution and a happily-ever-after. It's a legend, part truth, part imagination, a supposition I create because I don't know the whole story.
My daughter was born half a world away. She was found one morning in a secret corner of an industrial city. The man who found her brought her to the authorities who took her picture and posted an ad in the paper in case anyone reading might suddenly notice that their daughter was missing.
Two and a half years later, we met that sprite of a girl in a hotel conference room. From the anteroom where I waited, I could hear the girl chirping and clicking her feet on the stone floor as she danced and sang. I said to whomever cared: "There she is!"
When she came to the doorway the chirping stopped as suddenly as her feet. She stood solid and still. In her right hand, she clutched a tiny turtle hanging around her neck on a lanyard; in her left she held a photo album—the one we sent with pictures of us. Although I'd been warned it might not be immediate, I felt "it" right away: she was my daughter. The uncertainty that had crippled me since we started the adoption process almost three years earlier slipped away as we tried to be gentle in our introductions. We plied her with M&Ms and toys and a very cool princess backpack when all we wanted to do was snatch her up, hug her tightly, run from the room, run from the country, and never let her go.
It's been six years since that day in September. The process of her adoption is so far behind us I often forget her arrival into our family was so different than that of her home-grown siblings. I sometimes forget that she wasn't always with us, that she grew in our hearts and our imaginations much longer than her siblings grew in my womb. The dubiety that kept us frightened and wary during our adoption is gone, replaced by love and trust and faith that our existence as a family was meant to be. It is most definitely a happily-ever-after for us.
But I still worry; I'm haunted unknowns, by questions about my daughter's life before us. Children are not willed into being at two and a half. Like all children, she was brought into the world through birth and nourished for a time before responsibility for her care was given to the city's orphanage. My husband and I know so little about her first moments in life and we intend to share those few details with our daughter when she's old enough to ask.
Others know more: the people who were with her in those early days, those who now wander through my daydreams when I think about my daughter. While in China, I learned that the country and culture are so different from ours that it's impossible to understand, and disrespectful to question, the choices people must make. I can't judge but I can surmise the events that brought my girl from her first family, through children's services, and into our home.
Once upon a time there was a desperate young girl. I see her long black hair pulled away from her face, her eyes swollen with tears. I hear her muttering, trying to find a way out of her predicament. The father isn't evil, only a careless teenaged boy who was just as frightened when he learned the truth. They were so fearful of their families' reactions that they hid the pregnancy until the secret bulged out. Still, they had no experience, no help, nowhere to turn….
Once upon a time there was a mother. She is older, closer to my age. I see her dressed in a professional outfit, a suit or pencil skirt and blouse, her hair cut in a bob with straight bangs that line her eyebrows. A child with dirty fingers sits on her hip, not my daughter but an older sister. The woman wipes the pudgy hands, scolding in gentle melodic tones, and sets her down to run and play. That woman needs a son. She knows her husband is disappointed and their families are right: a second daughter, the one now sleeping in the next room, can't carry the family name or support them through retirement. A second daughter can't access education or social support without fines being paid, fines they can't afford….
Once upon a time there was a woman who expected a baby. She looked forward to being a mother with the same mixture of excitement and angst that filled my first pregnancy. When her baby—my baby—arrives, the little girl is loved and cradled and rocked and doted on. When the mother falls sick, she begs a friend to take her daughter. But when the mother dies the family does not have enough time or money to give the baby what her mother had wanted….
Once upon a time there was an office worker, a single mother left by her husband to raise a daughter. The woman is the first of her family to finish university and land a professional job. She works long hours to send money to her parents, saving a little to pay for her tiny apartment in the city. She loves her baby, but the cost of raising a child is formidable. A woman at the office whispers advice: There are greater opportunities for children elsewhere, in bigger cities or Western countries….
I don't know, of course, which story is true. Probably none. I imagine scenarios that make sense but they bring me no closer to truth. Some possibilities give me comfort that my daughter is where she needs to be. Some leave me helpless that I'll never have answers to the questions she'll ask. At my darkest times, I'm terrified that my daughter's separation from her first family was malicious or dishonest; I try not to yield to those fears. Together, my conjectures hover like a crowd of women who rely on me to provide my daughter with a life full of love and opportunities. They remind me to be grateful, as trite as that may sound, that only by her lost have I gained. I am bound to those women but I am my daughter's Momma.