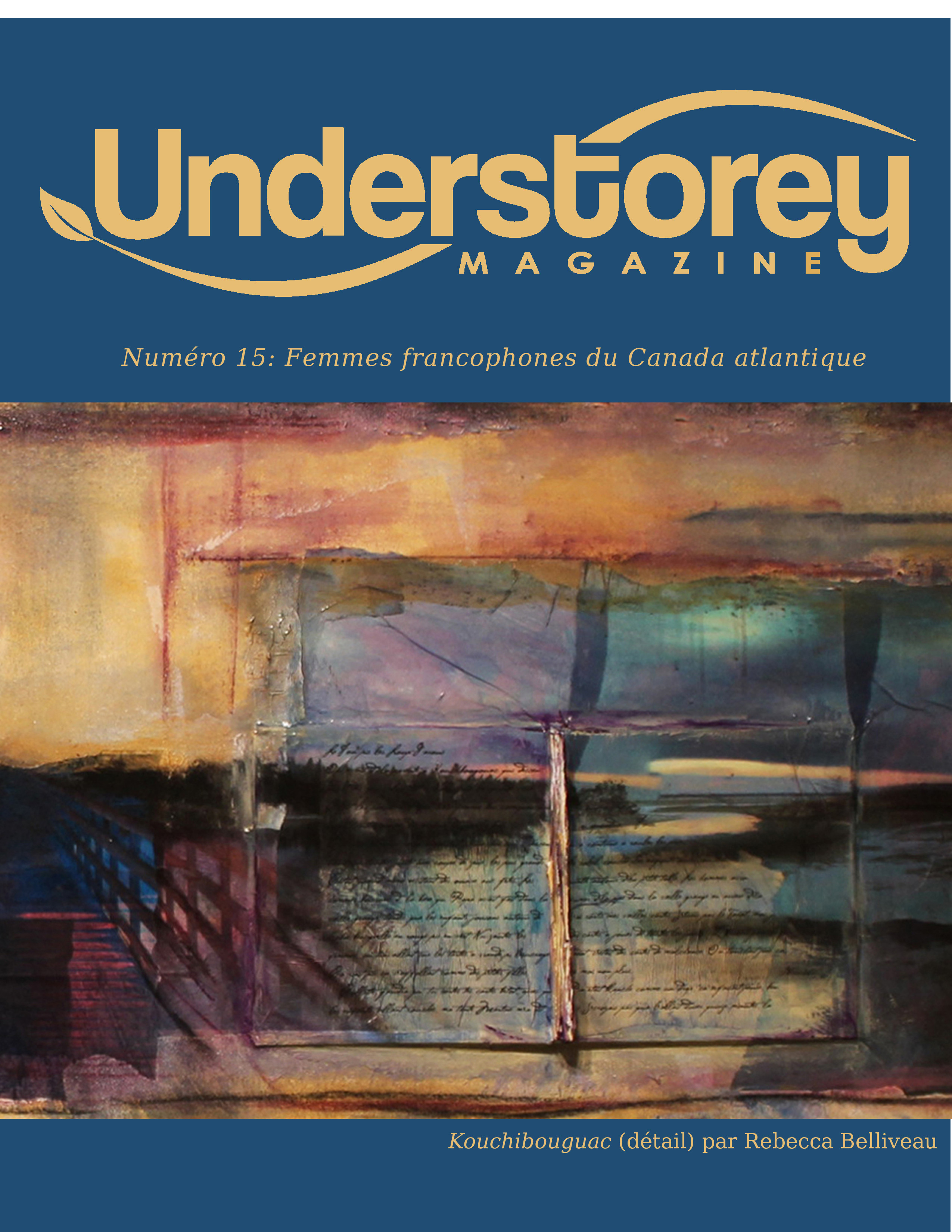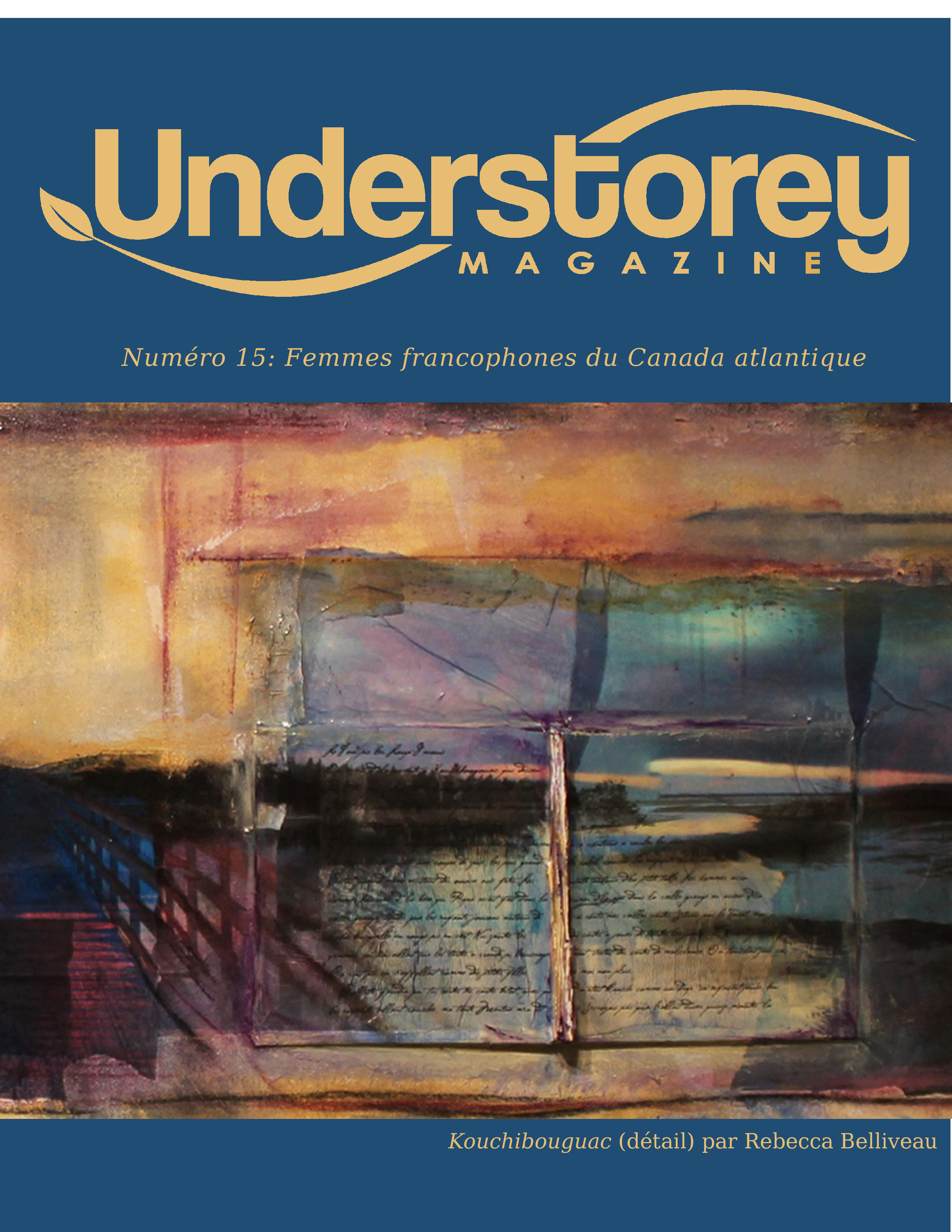 À quoi serviraient les expériences sans la perspective de les répéter ?
La vie, au fond, est un nombre infini de variations sur un même thème. 
—-Antonine MAILLET, Romancière et dramaturge acadienne
Ce numéro 15 d'Understorey Magazine se concentre sur les histoires des vies des femmes qui vivent une certaine francophonie au Canada atlantique, c'est-à-dire, leur propre francophonie, à elles. Nos auteures répètent, partagent, soulignent, à travers des plumes lucides, provocantes, luxueuses, traditionnelles, de formation et autre, leurs expériences; celles qui font partie de la mosaïque sociolinguistique de la région distincte du Canada atlantique.
En tant que locutrice francophone de formation moi-même, quelqu'un qui est née dans une famille immigrante punjabi-hindi-urduphone, un foyer enfoncé dans l'anglais du quotidien nouvelle-écossais, le français appartenait à une certaine population et par la suite, non pas à moi. Grâce à une formation solide à l'école et à une certaine affinité pour l'interculturalité, j'ai appris la langue française en Nouvelle-Ecosse avec enthousiasme. J'ai pris la décision d'outrepasser les barrières imposées sur et par moi-même pour poursuivre des études graduées en français.
To see someone that looks like you speaking French is really impressive.
Why?
Well, it is not what you expect.
Les mémoires des moments au foyer acadien continuent à travers la plume vivante de Paulette LARADE qui, par le biais de quatre strophes, raconte, de manière éloquente, toute une histoire familiale. La famille, vue parfois comme la vis quotidienne d'une langue, reste à la pointe de la plume poétique de Morgan MACKAY où l'espace, l'esprit et le pouvoir du message s'entrelacent pour offrir une image forte des liens familiaux. Notre dernière contribution poétique vient de Martine JACQUOT qui nous emmène sur un voyage chronologique de sons et de silences, de larmes et de rires ; les lecteurs (sur) vivent « un grand fracas, » comme elle nous démontre.
Les quatre contributions de non-fiction qui honorent ce numéro évoquent l'expérience de vivre la langue française aux multiples facettes. Sophie BEAULÉ donne vie à la notion de l'ailleurs, celui qui est subjectif, impulsif, constructif et tout simplement beau. Grâce à France SAVOIE-FRISON, l'acte d'écrire la langue française devient un moment poussé-tiré, perçant non seulement l'encre de la plume mais l'esprit de l'âme à la francophone.
Je suis tellement fière d'inclure deux contributions de non-fiction de deux de mes anciennes étudiant.e.s ; deux femmes pour qui le contact avec le français rend des émotions différentes. Pour Sonja WILLIAMS, la fierté d'être acadienne ne serait jamais en question, malgré le fait qu'elle a pris le nom anglais de son mari après le mariage. En ce qui concerne Ève POWELL, en portant déjà un nom anglophone, le français est devenu un certain kismet, un destin, car le français n'était pas présent au niveau d'héritage, mais par une introduction à l'immersion en école. Vive la Francophonie!
Carpe Diem
Au café, je prends une chaise
café crème qui fulmine mes lèvres pulpeuses
et
je m'assois.
Il n'est pas loin, aux cheveux roux
ses tatouages qui me rendent du confort, du désir
sont visibles
palpables.
Et je parle français, via Skype or whatever…
Doigts croisés qu'il puisse entendre
les sons
les syllabes
les siffles
Je ne chuchote pas.
En périphérique, je vois qu'il m'écoute.
La vapeur de son thé
tournoie
comme ma langue sur mes lèvres.
And maybe, just maybe…